Photographic Printing From Digital Cameras
We can work from your digital camera files and produce prints on the finest photographic specialty rag papers or poster paper. We offer three choices for printing photographs:
Digital Archival Pigment Prints - Giclee for Photographers
For premium Giclee paper we use Mueso Portfolio Rag. We believe it to be the finest archival paper made. This is our normal paper for all fine art Giclee prints as well as our archival digital pigment prints. It is considered a premium paper by the fine print industry. Yet our prices are less than what you would pay for lower quality papers at most photo labs and printers. All prints on Museo paper, be they photographs or reproductions of other art media, are proofed at full size to guarantee the finest print quality.
Grand Format Banner Prints
With our grand format partner we now offer banners and large scale graphics for artists, businesses and non-profits. Prints can be virtually any size including over 20 feet wide by over 100 feet long. Our turn around time is normally three days maximum!
Poster Prints
Finally, we offer poster printing on Epson Enhanced Matte paper. It is half the price of our Giclee paper. Although acid free, it is buffered wood pulp paper and therefore it is not considered archival. It is best for short term or placing behind UV glass since it can be effected by direct sunlight. Still it is great for posters, samples, leave-behind portfolio prints, or those looking for a very low price point for selling at craft shows or on Etsy.
Send us a File
You can send us a disc, USB jump drive or ask about Dropbox, Google Drive or FTP. We can also help you with issues of resolution and how big you can enlarge your image. Prints can be in color or black and white. Black and white prints can be a range of tones from sepia to a cold bromide paper look, or a true neutral black. We are experts in packing and shipping prints from 8X10 to 44X72 inches to artists and photographers from across the country.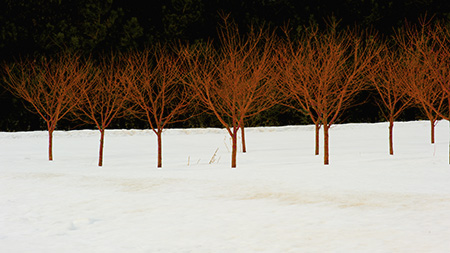 Doug Ruth 15X27 Digital Archival Pigment Print.
Art work copyright by Doug Ruth
Digital Camera Prints
We use premium heavy weight fine art paper that contains no acids, wood pulp or optical brighteners— meaning your photographs will not yellow over time, even when hung in bright light. Unlike conventional chemical photo paper, 100% rag paper will not crack or ding. With deep blacks and full rich colors it is one of the best papers we have tested. It is perfect for photographs made with high-end cell phones, consumer digital cameras, or high resolution professional cameras or those wishing to get high quality prints from your ready to go files. Our Direct To Print Service is 15-20% less expensive than our Giclee prints of paintings, drawings and pastels. Files must be ready to run, need no correction and limited to maximum paper size of 24 X36 inches.
Doug DeDecker 10X13 Digital Archival Pigment Print
Contact us for a price list or more information at: 715.792.5556 or you can e-mail us at: info@husomandrose.com for more information.